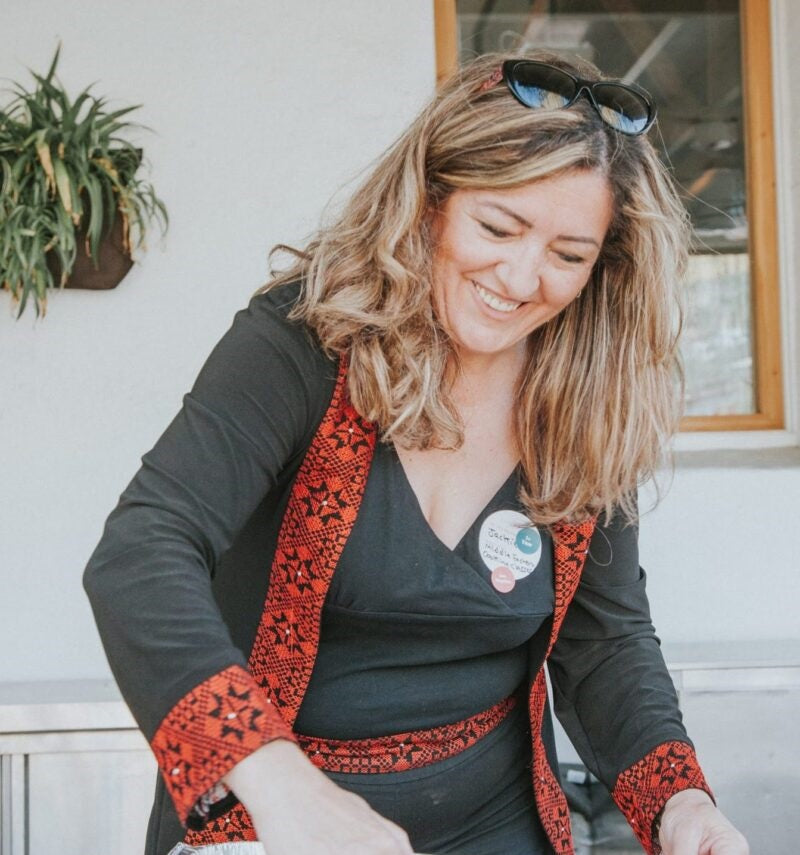 Meet Jackie
Meet Jackie, the mastermind and heart behind every layer of baklava. With a passion kindled in her family's kitchen in the Middle East, Jackie has spent years perfecting the art of baklava-making.Taste Jackie's dedication to authentic flavors and meticulous craftsmanship in every bite.Her love for baklava goes beyond the pastry; it's about preserving a piece of her heritage and sharing the joy of these sweet, flaky delights with the world. Step into Jackie's world of baklava, where tradition meets taste, and every piece tells a story.
Shop All Baklavas
Jackie's Story
Frequently Asked Questions
General
What Makes Jackie's Baklava Special?
I craft my baklava using organic ghee made from organic butter and local organic nuts, adding a blend of freshly mixed spices for a truly unique taste.
Can You Share the Story Behind Your Baklava Recipe?
Inspired by a student's encouragement, I transformed my homemade baklava, perfected over a year, and once taught in baking classes, into a market-ready delight during the pandemic.
How Would You Describe Your Baklava?
My baklava is a symphony of flavors - a delicate dance of spices, flaky phyllo, and organic nuts, all bound together with organic clarified butter. It's a far cry from the supermarket variety and crafted with love in my home kitchen.
What is Your Baklava Preparation Method?
Each baklava is meticulously crafted with 33 layers of phyllo dough, each layer lovingly sprayed with butter, baked to perfection to ensure a crispy, flavorful experience.
How Should I Store Your Baklava for Freshness?
Enjoy my baklava fresh for up to 10 days on the countertop. For longer storage, freeze it in a well-sealed bag. Even after three months, the texture and flavor remain as delightful as if it were fresh from the oven.
How Can I Order Your Baklava?
Ordering is simple via my website, now enhanced with Shopify for convenience. I ship nationwide, ensuring each piece is carefully packaged with bubble wrap and protective materials for a perfect arrival.
Orders
How Long Would it Take For me To Receive My Baklava Order?
To ensure the highest quality, each order is baked as soon as it is received. On average, we will ship your order within 1 to 2 business days as soon as it is received. The shipping speed will vary depending on your shipping choice on the checkout page.
Can You Accommodate Large Orders?
Yes! If you're looking for large orders for weddings, catering events, or similar events, please call us
I'm in Los Angeles, Can I Pick Up my Order?
Yes! If you're in the area, you can come and pick up your order. Make sure to call us first.
Diet
Does Your Baklava Cater to Dietary Restrictions?
Absolutely! In addition to the traditional recipe, I offer zero-sugar, vegan, and nut-free options to ensure everyone can enjoy a slice of happiness.
Do You Have a Vegan Baklava Option?
Yes, our vegan baklava is made with the finest vegan butter, catering to all preferences without compromising on taste.
What is the Difference Between The Classic Baklava and Vegan Baklava?
The single non-vegan ingredient in my baklava is butter. For my vegan baklava option, I use vegan butter instead of regular butter.
Do You Offer Gluten-Free Options?
While traditional baklava requires wheat, I also create a gluten-free Basbousa, available as a vegan and sugar-free option, using monk fruit as a sweetener.
Which Sweetener do You Use for Your Sugar-Free Baklava?
I use Monk Fruit as a sweetener in my sugar-free baklava. I found that it offers almost the same taste as the classic baklava.
What is the Nutritional Content of Your Baklava?
My baklava is a healthier indulgence, with just 140 calories and 4 grams of sugar per ounce, allowing you to savor the sweetness without the guilt.
Is Your Baklava a Healthy Dessert Option?
Yes, my baklava offers a healthier alternative to traditional recipes. While it remains a treat to be enjoyed in moderation, I've made conscious efforts to enhance its nutritional profile. This includes using lower sugar levels and incorporating either clarified or high-quality vegan butter. The use of nutritious nuts also adds to its health benefits. It's a delightful indulgence that aligns with a health-conscious lifestyle, without overstating its health attributes.